During the Battle of France, Allied Forces became cut off from troops south of the German penetration and perilously trapped at the Dunkirk bridgehead. On May 26, a wholesale evacuation of these troops, dubbed "Operation Dynamo," began. The evacuation was an amazing effort-the RAF kept the Luftwaffe at bay while thousands of ships, from military destroyers to small fishing boats, were used to ferry 338,000 French and British troops to safety, far more than anyone had thought possible. On June 4, Churchill spoke before the House of Commons, giving a report which celebrated the "miraculous deliverance" at Dunkirk, while also seeking to temper a too rosy of view of what was on the whole a "colossal military disaster."
Worthy Excerpt
I have, myself, full confidence that if all do their duty, if nothing is neglected, and if the best arrangements are made, as they are being made, we shall prove ourselves once again able to defend our Island home, to ride out the storm of war, and to outlive the menace of tyranny, if necessary for years, if necessary alone. At any rate, that is what we are going to try to do. That is the resolve of His Majesty's Government-every man of them. That is the will of Parliament and the nation. The British Empire and the French Republic, linked together in their cause and in their need, will defend to the death their native soil, aiding each other like good comrades to the utmost of their strength. Even though large tracts of Europe and many old and famous States have fallen or may fall into the grip of the Gestapo and all the odious apparatus of Nazi rule, we shall not flag or fail. We shall go on to the end, we shall fight in France, we shall fight on the seas and oceans, we shall fight with growing confidence and growing strength in the air, we shall defend our Island, whatever the cost may be, we shall fight on the beaches, we shall fight on the landing grounds, we shall fight in the fields and in the streets, we shall fight in the hills; we shall never surrender, and even if, which I do not for a moment believe, this Island or a large part of it were subjugated and starving, then our Empire beyond the seas, armed and guarded by the British Fleet, would carry on the struggle, until, in God's good time, the New World, with all its power and might, steps forth to the rescue and the liberation of the old.
342 B.C.; Athens, Greece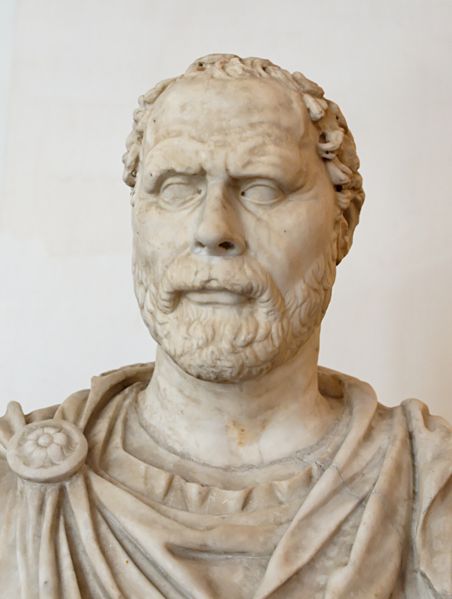 Demosthenes, master statesman and orator, loved his city-state of Athens. He cherished its way of life and abundant freedoms. And he believed in standing strong against anyone who might attempt to infringe on these privileges. This passion, unfortunately, was seldom shared by his fellow Athenians. While Philip the II of Macedon made bolder and bolder incursions into the Greek peninsula, the Athenian people seemed stuck in an apathetic stupor. For years, Demosthenes employed his powerful oratorical skills in attempts to awaken his fellow citizens from sleep to the realization of the imminent danger Philip posed. When Philip advanced on Thrace, the Athenians called an assembly to debate whether or not to finally heed the great orator's advice. Demosthenes was sick of his brethren taking liberty and the Athenian way of life for granted and he boldly called upon them to rise up and take action. After his rousing speech, the assembly all cried out, "To arms! To arms!"
Worthy Excerpt:
It is this fate, I solemnly assure you, that I dread for you, when the time comes that you make your reckoning, and realize that there is no longer anything that can be done. May you never find yourselves, men of Athens, in such a position! Yet in any case, it were better to die ten thousand deaths, than to do anything out of servility towards Philip [or to sacrifice any of those who speak for your good]. A noble recompense did the people in Oreus receive, for entrusting themselves to Philip's friends, and thrusting Euphraeus aside! And a noble recompense the democracy of Eretria, for driving away your envoys, and surrendering to Cleitarchus! They are slaves, scourged and butchered! A noble clemency did he show to the Olynthians, who elected Lasthenes to command the cavalry, and banished Apollonides! It is folly, and it is cowardice, to cherish hopes like these, to give way to evil counsels, to refuse to do anything that you should do, to listen to the advocates of the enemy's cause, and to fancy that you dwell in so great a city that, whatever happens, you will not suffer any harm.
Chief Joseph, "Surrender Speech"
October 5, 1877; Montana Territory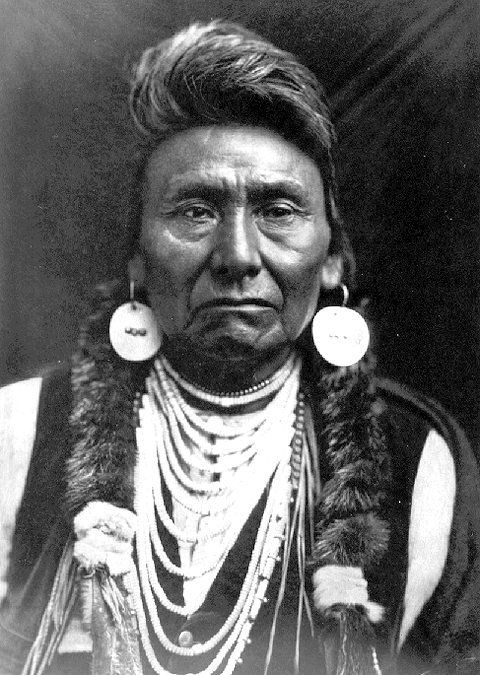 In 1877, the military announced that the Chief Joseph and his tribe of Nez Perce had to move onto a reservation in Idaho or face retribution. Desiring to avoid violence, Chief Joseph advocated peace and cooperation. But fellow tribesmen dissented and killed four white men. Knowing a swift backlash was coming, Joseph and his people began to make their way to Canada, hoping to find amnesty there. The tribe traveled 1700 miles, fighting the pursuing US army along the way. In dire conditions, and after a five day battle, Chief Joseph surrendered to General Nelson A. Miles on Oct. 5, 1877 in the Bear Paw Mountains of Montana Territory, a mere 40 miles from the Canadian border. The Chief knew he was the last of a dying breed, and the moment of surrender was heartbreaking.
The Speech
Tell General Howard I know his heart. What he told me before, I have it in my heart. I am tired of fighting. Our Chiefs are killed; Looking Glass is dead, Ta Hool Hool Shute is dead. The old men are all dead. It is the young men who say yes or no. He who led on the young men is dead. It is cold, and we have no blankets; the little children are freezing to death. My people, some of them, have run away to the hills, and have no blankets, no food. No one knows where they are – perhaps freezing to death. I want to have time to look for my children, and see how many of them I can find. Maybe I shall find them among the dead. Hear me, my Chiefs! I am tired; my heart is sick and sad. From where the sun now stands I will fight no more forever.
January 20, 1961; Washington, D.C.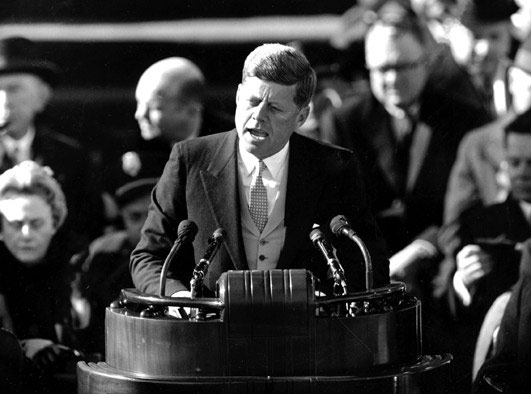 Young, handsome, with a glamorous family in tow, John F. Kennedy embodied the fresh optimism that had marked the post-war decade. On January 20, 1961, Kennedy took the oath of office as the 35th President of the United States. The youngest president in United States history, he was the first man born in the 20th century to hold that office. Listening to his inaugural address, the nation felt that a new era and a "new frontier" were being ushered in.
Worthy Excerpt:
Can we forge against these enemies a grand and global alliance, North and South, East and West, that can assure a more fruitful life for all mankind? Will you join in that historic effort?

In the long history of the world, only a few generations have been granted the role of defending freedom in its hour of maximum danger. I do not shrink from this responsibility — I welcome it. I do not believe that any of us would exchange places with any other people or any other generation. The energy, the faith, the devotion which we bring to this endeavor will light our country and all who serve it — and the glow from that fire can truly light the world.

And so, my fellow Americans: ask not what your country can do for you — ask what you can do for your country.

My fellow citizens of the world: ask not what America will do for you, but what together we can do for the freedom of man.
January 28, 1986; Washington, D.C.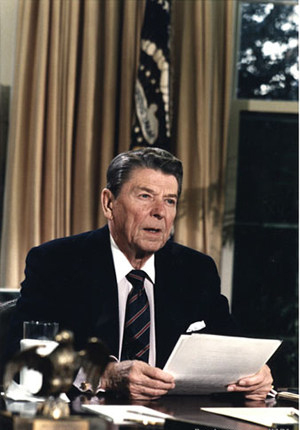 On January 28, 1986, millions of Americans, many of them schoolchildren watching from their classroom desks, tuned in to see 7 Americans, including Christa McAuliffe, a 37 year old schoolteacher and the first ever "civilian astronaut," lift off in the space shuttle Challenger. Just 73 seconds later, the shuttle was consumed in a fireball. All seven aboard perished. These were the first deaths of American astronauts while in flight, and the nation was shocked and heartbroken by the tragedy. Just a few hours after the disaster, President Ronald Reagan took to the radio and airwaves, honoring these "pioneers" and offering comfort and assurance to a rattled people.
Worthy Excerpt:
We've grown used to wonders in this century. It's hard to dazzle us. But for 25 years the United States space program has been doing just that. We've grown used to the idea of space, and perhaps we forget that we've only just begun. We're still pioneers. They, the members of the Challenger crew, were pioneers.

And I want to say something to the school children of America who were watching the live coverage of the shuttle's takeoff. I know it is hard to understand, but sometimes painful things like this happen. It's all part of the process of exploration and discovery. It's all part of taking a chance and expanding man's horizons. The future doesn't belong to the fainthearted; it belongs to the brave. The Challenger crew was pulling us into the future, and we'll continue to follow them……

The crew of the space shuttle Challenger honoured us by the manner in which they lived their lives. We will never forget them, nor the last time we saw them, this morning, as they prepared for the journey and waved goodbye and 'slipped the surly bonds of earth' to 'touch the face of God.'
"Speech of Alexander the Great"
326 B.C.; Hydaspes River, India
In 335 B.C., Alexander the Great began his campaign to recapture former Greek cities and to expand his empire. After ten years of undefeated battles, Alexander controlled an empire that included Greece, Egypt, and what had been the massive Persian Empire.
That wasn't enough for Alexander. He decided to continue his conquest into India. But after ten years of fighting and being away from home, his men lacked the will to take part in another battle, especially against an opponent like King Porus and his army. Alexander used the talent for oration he had developed while studying under Aristotle to infuse his men with the motivation they needed to continue on, to fight and to win.
Worthy Excerpt:
I could not have blamed you for being the first to lose heart if I, your commander, had not shared in your exhausting marches and your perilous campaigns; it would have been natural enough if you had done all the work merely for others to reap the reward. But it is not so. You and I, gentlemen, have shared the labour and shared the danger, and the rewards are for us all. The conquered territory belongs to you; from your ranks the governors of it are chosen; already the greater part of its treasure passes into your hands, and when all Asia is overrun, then indeed I will go further than the mere satisfaction of our ambitions: the utmost hopes of riches or power which each one of you cherishes will be far surpassed, and whoever wishes to return home will be allowed to go, either with me or without me. I will make those who stay the envy of those who return
Find such amazing speeches in this link http://www.artofmanliness.com/2008/08/01/the-35-greatest-speeches-in-history/